Training Day with David Pincus
F and I's' Training Day 23rd May 2016 with David Pincus, hosted by Carol Bennitt.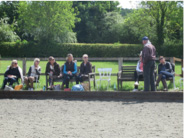 Demo Riders    Carol, Nina, Sarah, Mandy
In Hand work  Carol with 5yr old, PSG and GP
This was an excellent day in every way. Our Hostess is so welcoming, kind, encouraging and supportive.  Our Coach is tops.  Open to discussion.  Complete horseman, encouraging to all, both human and equine.  Understanding fully with an eye for detail resulting in noticeable progress with all partnerships.
We were encouraged to "set the standard".  Prepare and ride our corners and movements well.  We used shoulder fore, shoulder in.  Haunches in, leg yielding half pass.  Partnerships were encouraged to stay in balance; self carriage; to "deal with issues" if/as they arose.  Horses must "give" in the poll, their jaws with activity created from behind.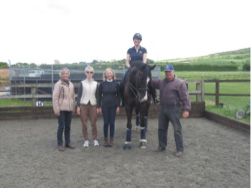 In Hand work:  From a good halt, encourage a good walk, then progress to small steps. Then reward.
On behalf of all attendees THANK YOU CAROL and DAVID.  Next date, PLEASE.
Thank you to Emma for our delicious lunch.
Report by By Amanda Holloway BHSI (Regd) BE Accred