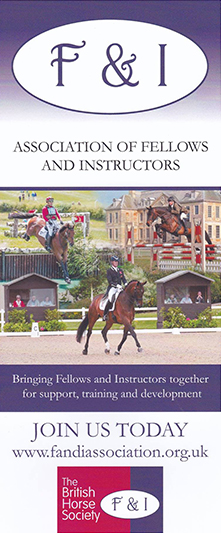 The Association, or "F&I" as it is commonly known, is designed by FBHSs and BHSIs, like yourself, to fulfil a need for further training and development, and to be a vehicle through which we can all keep up with current events and future developments in our senior coaching world.
Chaired by the redoubtable Jillie Rogers BHSI, and with a strong and diverse committee of Fs and I s to assist her, membership is currently around 200. We put on training days, visits, course walks, study days of all types, from top level discipline coaching, to yard management, to the latest training and veterinary techniques. Events take place across the UK and Ireland, and they will enable you, one of our most qualified coaches, to gain access to top names, interesting locations, wise advice and an enjoyable exchange of ideas with peers. And we run our own much-sought-after 2 day Annual Course in January each year.
The group knows how to have fun too – the recent post-AGM dinner and evening entertainment, with attendance limited to F&I members only, was widely acclaimed as a very enjoyable evening for all! We even have a carefully maintained closed-group Facebook page which is proving handy for those who use it.
All FBHSs and BHSIs are welcome, wherever you are based. The subscription is astonishing value at only £20 a year. And if you've just passed your Performance Coach BHSI, the first year is free!
We now have F & I branded clothing! See and buy from the collection at: www.jsteamwear.co.uk/shop/groups-and-societies/fi/
We look forward to welcoming you at our events this year.
Download the membership form below and then the membership agreement form both of which open in a new window. Both must be completed and emailed or posted to Judith Murphy.