The Punchestown National Hunt Racing Festival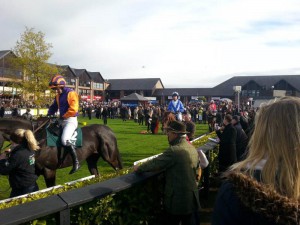 It was the really keen racing fans who turned up for Faith Ponsonby's picnic at the Punchestown Festival of Racing on 26th April, and as representatives of the F&I Association I can include Ann Bostock,  Nick Turner, Faith and myself.  The day was cruel weather wise with hail storms a regular feature of the picnic.  Faith's many racing friends had come from the four corners of Ireland and many had crossed that wicked little strip of water the Irish Sea to see some great National Hunt Racing.  About 50 of us gathered around the back of Faith's jeep as food kept appearing, washed down by gallons of beer and wine.  We then walked up to the course and into the Members Enclosure, courtesy of Faith and her friends and watched some good racing.  The first race is called a Cross Country Race and is based on the old style of crossing the country whilst galloping from point to point with banks, hedges, undulating land and ditches, great fun and won by Nina Carberry – some woman on a horse.
There were seven races in all with two flat races, only in Ireland!  We glimpsed Nicky Henderson and Willie Mullins with their strings of horses, Grand National winner Rule the World owned by Michael O'Leary (Ryanair) and swooned (well I did) over the prowess of Barry Geraghty, David Mullins and Ruby Walsh.
My local pack of Foxhounds The Island paraded at the end of the sixth race accompanied by much whooping and hollering away by Ann and myself.  And then there were the interesting little shops to peep into if you've not had a winner and need to come to terms with the loss of €5+.
So this day keeps Faith Ann and me happy, it tells others about this 'club' the Association of Fellows and Instructors and affords us the chance to see some great horses and horsemanship in another sport.  Just to keep it all on an even keel there were six Dressage Ireland Judges present one BD List 2a Judge who is also a FEI 3* & 4* Event Judge and the Performance Manager of the Irish Event Team, himself a FBHS who has for the past two years coached at our Annual Course.
Report by Jillie Rogers