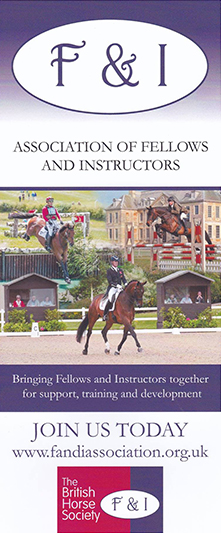 If you are already a member and just browsing or checking in – welcome!  Join us on Facebook, come to and enjoy the events we hold and put the dates of the Annual Course in your diary.  You can even offer to host your own event.  We promise you'll be inspired to do even better in whatever you do!
If you'd like to talk about hosting an event for us at your yard or premises, presenting at an event for us with your specific industry expertise, or any other matter to do with the Association and our activities, talk to anyone on the committee or to Jillie Rogers, the boss herself jillierogers001@gmail.com
Membership Lapsed? We hope you will consider re-joining or renewing your membership with the F and I Association as this year promises a full calendar of events ranging from training days to social occasions.
Download and fill in the membership_form_2014-2015  and return to Judith Murphy FBHS, at the address on the form.
Not a member yet? Click here now to join!
We now have F & I branded clothing! See and buy from the collection at: www.jsteamwear.co.uk/shop/groups-and-societies/fi/
NB.:
The F&I Association are unable to amend amounts set by standing order so you will need to personally contact your bank or amend the details on line to do this.
However, if you feel membership is not for you and you wish to be removed from our mailing list, please send an email or note to Judith Murphy FBHS – treasurer@fandiassociation.org.uk
You will need to cancel your standing order directly with your bank.