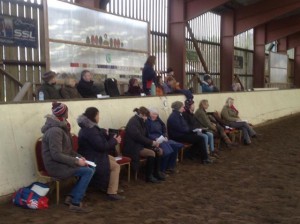 On Monday 26th of January, a training day was held at Talland, the first one to be held here since 2008. We were obviously in for an inspirational day – much catching up having to be done!
Pammy's aims were –
Helping riders find their way with the horses
Answering questions.
Having recently completed her UKCC level 3 – Pammy was keen to show off her 'newly acquired coaching skills'!!!
The first group of four very brave riders rode a variety of horses, from a rather cheeky recently cut 5 year old to more established horses.
After a question about how much notice we should take of conformation whilst warming up – Pammy's advice was to assess how the horse wants to work naturally and then ask it to do the opposite.
The result was that some horses worked rounder and some were worked more 'up'.
Some riders were asked to shorten their stirrups a hole to improve the base of support, and again Pammy suggested we all shorten stirrups a hole before competing. Practical advice – competition breeches not being as user friendly as everyday ones!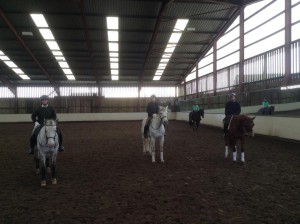 After swopping on the first horses the same four riders went straight on to ride four more horses from at least one Grand Prix horse to a mare that had been placed at the Nationals on 9 consecutive years at different levels!! A discussion came up about travers and Pammy explained that she never uses it against the wall as it kills all forward movement.
Riders did a super job and evaluated the lovely horses extremely well, picking up strengths and weaknesses seemingly correctly – Pammy agreeing with them all.
After a tasty and brief lunch, four more riders had their opportunity on some very talented horses. Pammy is very excited about one 5 year old mare with a stunning walk, who maybe as yet hasn't found her balance in the canter.
Advice for the afternoon was:-
To ensure the lower leg was used far enough forward to stimulate the intercostal nerve which helps the horse lift its back.
Be wary of teaching too much inside leg to outside rein.
A demonstration on how to help a horse late behind in a change. (Walk on a circle with inside flexion, push quarters  out. Canter and ask for same effect, this generally encourages horses to become disunited – hence encouraging changing behind. Repeat regularly for few days)
Whilst all of this was going on it was great to see young, recently backed horses being lunged and ridden by a very enthusiastic daughter in law who talks constantly to her horses much to Pammy's pleasure as she still firmly believes in the use of the voice.
To finish we were all lucky enough to watch Pippa and Abi work their current horses – 2 completely different types with Pippa using sequence changes to work in!!
An amazing day – such strength and depth in horses, knowledge and experience at Talland.
Many thanks to Jeremy & Jude for organizing.
Report by Jan Evans (spectator)