Report from the F&I Study Day – Stallion AI and Equine Law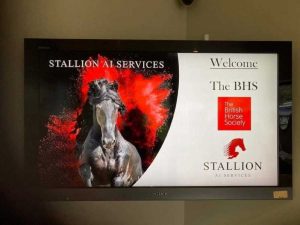 17th February 2022
Firstly, thanks to Amy for organising the day at Stallion AI Services with talks from Tullis Matson (who is the founder of Stallion AI Services) in the morning, and Carrie de Silva on Equine Law in the afternoon.
Tullis began his fascinating presentation with a quick description of his own history, stemming from his grandfather farming Twemlows in the 1930s as a diary and pig operation, generating 1 tonne of cheese daily. Tullis himself started in the racing industry, but quickly moved sideways into AI, studying in New Zealand and at the University of Utrecht, before founding Stallion AI Services in 2000. He explained that the overall purpose is to extend the breeding potential of the equine beyond the lifespan of the individual horse. He went on to outline the many separate businesses that Stallion AI are involved with now. These include Cryogenetics, a logistics company dealing with import and export of frozen semen worldwide – interestingly they now export nearly double what they import. Tullis also runs Gemini Genetics, involved in cloning, genetic preservation and regenerative techniques. Tullis then moved on to discussing some more complex semen extraction techniques, including epididymal extraction, which is used when a stallion has been castrated, the testes are dissected and sperm cells harvested from the epididymis. He went on to tell a story where a very valuable prize bull broke a leg and had to be destroyed, he used the same techniques on the bull which proved to be successful.
This led on to sexing sperm, with the focus on preserving rare breeds such as Suffolk Punch where more females were required for breeding and to expand the gene pool.
Intracytoplasmic Sperm Injection (ICSI) was the next topic. This is the process of injecting a single sperm into an oocyte. This can be used to preserve breeding lines, for example using the frozen semen from deceased stallions. Cloning can also be used to help preserve and expand breeds that are in threat of extinction. Two sport horses famously known for being cloned are Gem Twist and Arko. One of Gem Twist's clones, Murka's Gem, resides at Stallion AI Services' yard. 85,000 USD plus expenses should just about cover the bill of cloning your horse.
There are obviously ethical issues with using such techniques as ICSI and Cloning – but, whatever one's views may be, the science is incredible. There is also the question with cloning sports stallions …. are we breeding backwards?
This is where the presentation became almost unbelievable with Tullis going through DNA profiling and CRISP R technology. CRISPR can edit genes and alter DNA, it can turn genes on or off without altering the sequence which could in theory create a 'Super horse'; it has already been used to 'gene edit' mosquitos to reduce the spread of malaria. CRISPR technology could potentially cure illnesses such as cancer, blood disorders and blindness. It could be brilliant, but it could also be very dangerous if used by countries which are unregulated.
Due to his work with equines, Tullis has become involved with a European charity called Nature's Safe, whose aim is to preserve small populations of animal species which have low genetic diversity and are in a cycle of inbreeding. The laboratories involved are dedicated to the long-term storage of live cells from animal species at risk of extinction. There are currently 1 million species at risk of becoming extinct; this figure has gone up massively in the last century.
Basically put, skin samples from the animals are broken down, then with different growth factors added can be turned into sperm or eggs; frozen skin samples can last for at least 40 years.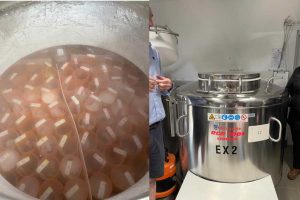 We then went out to watch a semen collection taken from a stallion – Big Star – using the dummy and a teaser mare. No photos allowed, but he looked relaxed and magnificent. A sample was taken and put straight under the microscope which we could all see on the tv monitor in the lab. The sample had 280 million sperm per ml. The sperm can be used immediately fresh, be chilled overnight or put in an extender and frozen, this dehydrates the sperm so it doesn't expand and 'explode' as it freezes. Tullis has 2 large nitrogen storage tanks which hold in excess of 265,000 straws.
The stallions have first class facilities. They go on the walker, have regular turnout and they have a massage under the solarium before they are used on the dummy as some can tie-up. In the summer, they produce more testosterone, which leads to more ejaculate, but the same amount of semen as they produce in the winter, and this can actually make it more difficult to process. It was interesting hearing Tullis talk about judging each individual stallion's preferences for his daily routine, nutrition, how swiftly each stallion's sperm recovers from competition outings, or weather variations, or being stabled opposite a stallion dislike – and managing the details and timing of the covering to suit each stallion, including which teaser mare they preferred…
The afternoon session was presented by Carrie de Silva on Equine Law. After 20 years practicing and lecturing in law, Carrie is now a Visiting Professor at Cirencester.
Carrie was great, from the very start of her presentation she was asked lots of questions from the group on issues regarding insurance and what we may or may not be liable for. She encouraged discussions and clarified lots of grey areas that many of us weren't sure about such as teaching a handful of clients in our own arenas if we don't technically use it as a business? when does selling horses become part of our business and when does it not? where do we stand if someone trying a horse has an accident? can we teach practical sessions on our own horses if we don't have a riding school licence? What can we do to recoup livery fees from non-payers?
The message was that adults of sound mind need to take a measure of responsibility; in law there is a 'voluntary acceptance of risk' and accidents do happen. As coaches we need to ensure we take (and can prove that we take) 'reasonable care' to minimise risk of injury – was damage foreseeable? Disclaimers are woolly, and will not protect from genuine negligence claims, but can be useful as they help prove you took a duty of care.
The Animals Act 1971 was put in place to protect people and livestock from harm or injury from animals, even if it isn't the owner's fault. Dogs and horses are usually cited as these are the 2 animals which generally cause accidents or harm (as Carrie put it, people don't usually experience harm from a pet mouse).
In the last 20 years, since the Mirvahedy v Henley case in 2003, there have been a lot more claims involving horses. In this case, a horse and 2 ponies owned by the Henleys were spooked and escaped from their well-fenced field. The horse and 1 pony crashed (fatally) into a car on a dual carriageway which was being driven by Mr Mirvahedy causing him serious injuries.
Although this wasn't the Henley's fault, it wasn't Mr Mirvahedy's either and he sustained damages that the owners of the horse and ponies were liable for.
As animal owners, coaches, livery owners etc it highlights the importance of having correct insurance, reading the contract carefully, asking lots of questions, having health and safety documents in place and up to date and at all times demonstrating a duty of care.
Carrie left us all with a (very large) booklet which will definitely be kept on my office desk and I suspect referred to regularly!
Organised for F&I by Amy Bannister Bell BHSI.
Report by Becky Cooper BHSI