Report from Ballindenisk & Punchestown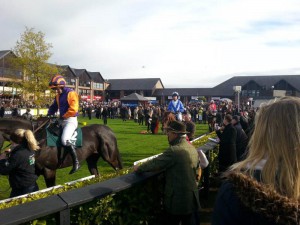 The Fellows and Instructors Association was well represented in Ireland during April.  Ballindenisk International Horse Trials were held in County Cork by kind permission of the Fell family.  It had FEI classes from 1* to 3* including a Nations Cup team competition. Nick Turner FBHS was there as the Irish team manager, Anne Marie Taylor FBHS had a pupil in the 3* class and was seen training and supporting him.  Kylie Roddy BHSI had a successful weekend finishing 2nd in the CCI 1* with Guzzi and in the top half of the large CICO3* class.  It was very amusing that several of Kylie's supporters can lip read because whilst she was show jumping the word which popped out certainly wasn't fiddlesticks!!!!  Jillie Rogers BHSI our chairman, was seen to have writer's cramp when scribing for the 52 strong CICO3* class for Ground Jury member Ann Bostock BHSI.  The event also saw Ireland's F and I rep Faith Ponsonby BHSI grooming/helping her son in law who was competing. Jim Newsam rode Magennis, bred and produced by wife Emma, and for Faith, Kilcooley Michael, both doing lovely clears cross country.
The Tuesday after Ballindenisk was the first day of the Punchestown NH Festival.  Faith was amazing in producing a picnic for at least 30 people which was held on sloping ground before racing commenced.  Jillie made a fantastic cheesecake for which the recipe involves teaching 3 lessons and adding ingredients as pupils change over!! Ann took wine (most important) and very enjoyable evening was had with excellent racing.
It is good to see that our members are so versatile and active in the equestrian industry.