Jumping Techniques Training Day Nick Turner FBHS
at Bold Heath Equestrian Centre, Cheshire on 5th July 2018.


We had five groups of eager riders for the training day with Nick Turner. Mark Baker and his team at Bold Heath had built a fantastic track for us, with a testing series of jumping exercises for us.
They have fantastic outdoor arenas at Bold Heath, which we planned to use but due to the penetrating rays of the sun they kindly let us have the indoor school! The surface was amazing, which allowed us to ride more confidently and positively through the exercises.

Nick expertly supported and challenged us through combinations of angled fences, skinnies, spreads, corners and brush fences. All the exercises required us to commit to a positive canter and hold focus and conviction to the line. This really allowed the horses' to think, perform and learn.
This was shown very clearly by Mark Baker's and Becky Cooper's young horses who really began to understand what was being asked of them and improve their technique and confidence.

Common themes with many riders where, preparing sufficient balance and energy in the canter and maintaining an equal contact with hands together and down to allow the horse to think and react. Props to hold or riding with reins in one hand were used to assist control of the contact in some cases!
Nick did a wonderful job involving spectators in discussions whilst they were observing the sessions. All horses and riders survived the heat and humidity and were provided with challenge and skills they can use in the future.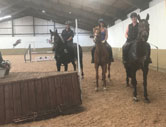 A huge 'thank you' to Nick Turner and all at Bold Heath.
We look forward to the next time!
Sue Ricketts BHSI