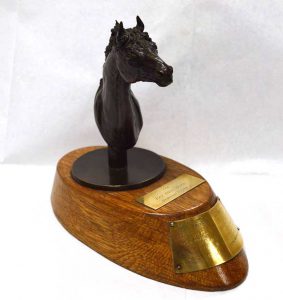 I am sad to hear that Jo Knowles has passed away.  I first met Jo in the late 1980's at a BHS Convention at Stoneleigh.  I was immediately taken with her gentle, kind and knowledgeable attitude to everything.
We talked about various things throughout the day and Jo was particularly interested in the Pat Smallwood award.  It then transpired that Jo was a very accomplished Sculptress.  I was one of the Trustees of the award.  Jo offered to design and make a trophy to be awarded to the winner each year.
When the Trophy arrived I was amazed by its beauty.  The bronze of the horse's head and neck was stunning.  It is now presented by the F & I Association to a member at each AGM, for services to the BHS/F&I Association.
As the current holder of the trophy, I delight in seeing it every day.  At an AGM about 3 years ago, Jo was persuaded to come and present the trophy to the winner.  I asked Jo if she had named the trophy and she said "no".  After considerable thought she said she would like it named after a favourite foal she had bred.  She said Wistful was a cheeky foal and had a mind to jump anything!  She would jump the show jumps alone when turned out in a paddock.  Jo evented her with great success in the show jumping and cross country, but Wistful was not compatible with dressage!
There is now a plaque on the trophy engraved – "Wistful.  Designed and sculpted by Jo Knowles FBHS".  I sent Jo photos of the trophy and the new engraving last January.  She wrote to me showing great appreciation.
Another matter that Jo told me about at the Convention, was her trips to Iceland on behalf of the BHS. She loved the horses and people in Iceland and went there many times.
We have lost a very special Fellow.
Sue Payne
September 2016