Glorious sunshine welcomed the hardy few who arrived to enjoy and benefit from the coaching day offered by Mandy with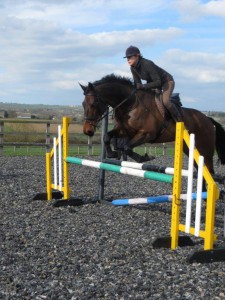 Jeremy Michaels FBHS as the coach's coach. Always a wonderful setting at Shorthampton we were all very appreciative of the improved weather.
Four lucky BHSI's Mandy, Judith Murphy, Jo Ivemey, myself and my guest Sue Barr were to benefit from a marvellous days coaching. Mandy had produced for us a diverse selection of her clients, a wealth of wonderful horses and riders of every possible type. Our grateful thanks to our Demo riders…. Tonya Wood, on a lovely young eventer and another big horse competing at novice, young riders Lucy Goodey and Alex Byrne, and Fiona riding her pony gold medal winning daughter's 3 eventers aiming at juniors. The horses also varied from small and athletic to big and strong eventers and ranged across all stages of eventing training up to 2 star. Even Mandy, riding the sweetest little welsh pony, was coached by my nervous guest Sue Barr!
The morning session began with dressage with Jeremy coaching the first few riders and asking us all to participate in assessments and suggestions for improvement. There was such an interesting variety of combinations that every aspect of coaching skills was needed. Jeremy rode two superbly, demonstrating the huge benefit of having a 'sit upon' to feel of the horse's way of going. Many different ideas were tossed about – but the overriding conclusion was to try to think positive and seek and enhance the good bits in each combination. The importance of having a horse working willingly off light aids was agreed as key to success as was the essential requirement of a secure and balanced rider.
Much mention was made of Chris Bartle and his 'wheelbarrows' analogue for helping riders not to pull back at the horses head. Also the benefit of a clear riders 'body statement' helping to set the horse up for the intended movement or transition.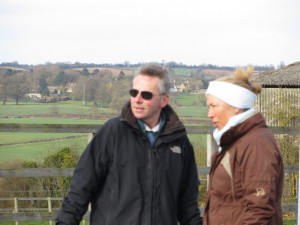 Molly Sivewright was also frequently referred to, especially the value of ensuring the correct distribution of the riders' weight and the effectiveness of a rider lifting their diaphragm to prevent them tipping forward. The benefits of many transitions within and between the gaits were shown to improve the horse's willingness and hind leg engagement – and the horse and rider partnership. Mandy added the wonderful contribution that 'what's in the brain goes down the rein'! Molly Sivewright's and Chris Bartle's brilliant books are still as relevant today as when they were written!
Each person had a chance to coach one of the riders, overseen by Jeremy, and comments were offered from him and then from the riders. My rider was young Alex on a lovely big grey welsh gelding who was very sharp and we worked on the riders role in calming the horses emotions. I asked my rider to ignore all the horse's little dramas and crises concentrating on controlling his rhythm and breathing whilst maintaining a secure position – she found this helpful. I do find hot horses can cause themselves problems when they forget to breathe out! Everyone found Jeremy's comments very useful and encouraging -and then we all repaired to Mandy's lovely old farmhouse for lunch.
Mandy had made a wonderful Scandinavian chicken – a light creamy version of coronation chicken with fruit added – delicious. Quite an impressive feat as Mandy had only returned from skiing the day before! During lunch many ideas were tossed about and discussed especially the BHS exams, UKCC and how to encourage new coaches – younger or older – to seek qualification.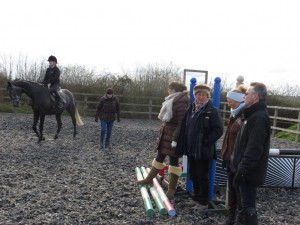 In the afternoon some of the same combinations of horses and riders came forward for jump coaching and we started with pole work before moving on to grids. Again each of us took a turn to coach and further discussion, comment and encouragement was offered. We then set out a jumping exercise with 4 small jumps set out on diagonals at 15-16 metres that could be jumped in various ways and proved effective and very helpful to all. It was also a quick and easy exercise to set up and put away!
Jeremy is a wise, encouraging and helpful coach for us all and I especially found it helpful to work in front of colleagues and receive feedback and comment. Coaching can be lonely business and sometimes a bit of an ego trip… so these days are so valuable to keep ones coaching and social skills up to scratch – and ego in check!. Thank you to Mandy for organising wonderful demo riders for us, a brilliant coach and a delicious lunch. Roll-on the next Mandy Holloway F and I day with Jeremy Michaels FBHS planned for later in July 2014.
Meanwhile Mandy and Joanna are offering a day of 'schooling horses from the ground' and 'developing successful horse and rider partnerships' at Shorthampton on Tues 1st July – cost to F and I's £30 – others £35 – or further information please contact Mandy 07753 367252 mandyholloway@hotmail.co.uk or Joanna 07968 544448 orinfo@fearlesshorse.co.uk.
report by Joanna Day BHSI BE acT